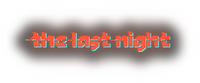 The Last Night is a game directed by Tim Soret, who founded his video game studio Odd Tales in London.
The release date of the game on Xbox One, PC, & Mac is unknown for now. It will be published by Raw Fury.
Before becoming a real game, The Last Night was a small flash game made in 6 days, submitted to an online contest, the #CyberPunkJam. It won the competition among the 265 other games. This "draft" of The Last Night can still be played for free, in your browser, here.
Summary
[
]
The Last Night is a 2.5D cinematic adventure game, forging ahead on the path established by the greats such as Another World, Flashback and the Oddworld series. Set in a rich post-cyberpunk world, the game is aiming to update the vision seen in "Blade Runner" or "Ghost in the Shell", while establishing a new standard for immersive pixel art.
Plot
[
]
The Last Night immerses you in the everyday life of Charlie, a second-class citizen living in a city brimming with augmentation and citizens living a gamified existence — none of which Charlie can experience himself due to a childhood accident. Apathetic and disheartened by the seemingly pointless world around him, Charlie is presented with an opportunity to take matters into his own hands. But at what risk?
Features
[
]
Action & infiltration gameplay in the great tradition of cinematic platformers.
Travel between 4 very different districts using taxis, ferries, or monorail while trying to keep low profile.
A very original cast of characters to interact with through a fresh new style of interactive dialogues entirely animated.
Interactive, in-game multiple-choice events. In tricky situations, run away, argue to gain more time, or try to pull your gun.
Living, simulated world with dense crowd of citizens doing their own stuff.
Pixel art backgrounds, characters, and animations are entirely hand-drawn.
Screenshots
[
]
Videos
[
]
External links
[
]